Leeds United entered the new year top of the Championship table having been top of the pile throughout the festive season. History shows us the team topping the table on Christmas Day usually wins promotion to the Premier League. In the last five seasons Wolverhampton Wanderers (1st in 2017/18), Newcastle United (1st in 2016/17), Middlesbrough (2nd in 2015/16), Bournemouth (1st in 2014/15) and Leicester City (1st in 2013/14) have all been top at Christmas and been promoted. But as Leeds fans we are always cautious about getting carried away.

So how many points have the last five teams in second place ended up with; 90 (2017/18), 93 (2016/17), 89 (2015/16), 89 (2014/15) and 93 (2013/14). The average over those five years would indicate 90 points would usually be enough to gain promotion. After 28 games Leeds have an average of 1.928 points per game, translated over the rest of the season this would give a total of 89 points. The competitive nature of this years Championship probably means 89 points is enough to gain promotion. Indeed the bookies at https://www.betbrain.com/free-bets/ have Leeds down as favourites for promotion; Leeds United 1/3, Norwich City 2/3 and Sheffield United 1/1.

Our form this month has not been great but Norwich have won only one in their last five league matches, Sheff United had a run of one win in four not so long ago and West Brom were winless in three before Monday night. Looking at the expected goals (xG) statistic Leeds United and Norwich are currently above their expected points tally both about on course for automatic promotion. Sheffield United fall well below their expected points tally but their recent good run has brought them back into contention.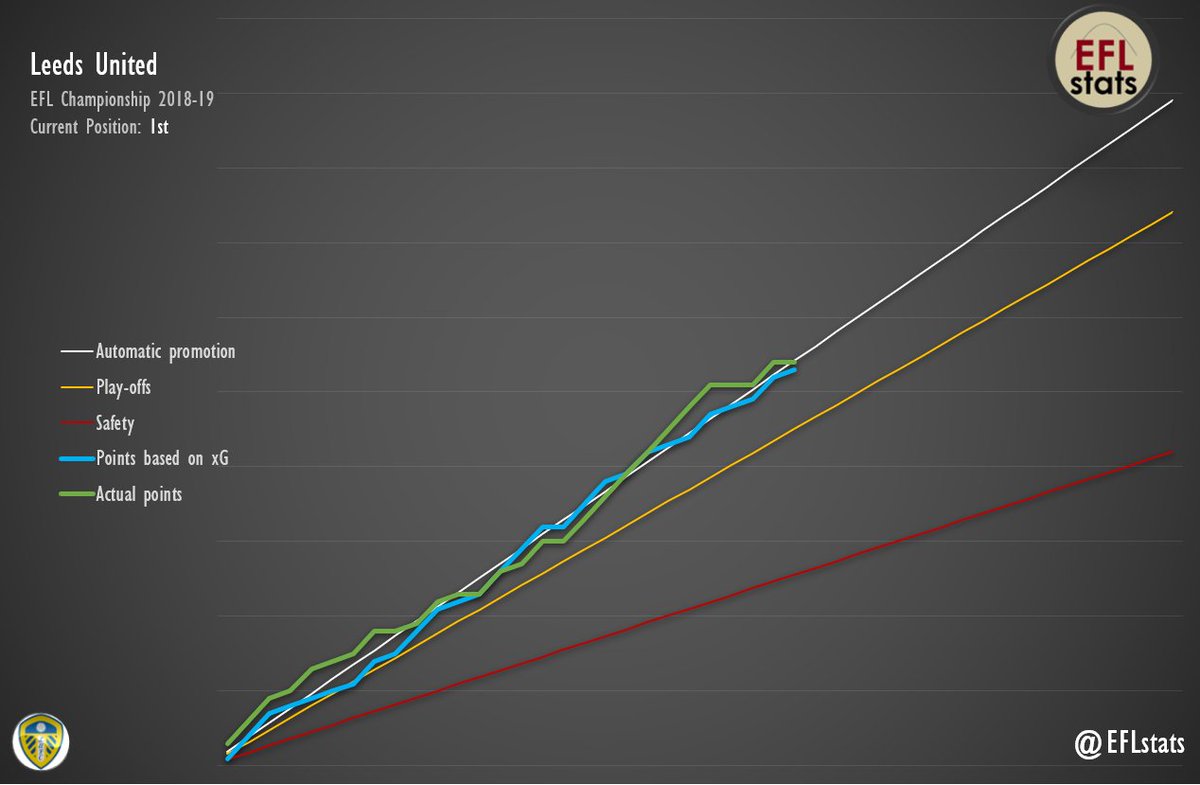 Graphic courtesy of EFL Stats


Looking at the fixtures nine wins, six draws and two losses from our last eighteen games should be enough to see us through. Possible, but with games against promotion rivals Norwich, Middlesbrough, West Brom, Bristol City and Sheffield Utd there are some tough games left and these results could be crucial to our promotion chances. Check out leedsmad's predictions for the run in and let us know what you think…

Rotherham Win
Norwich Win
Middlesboro Draw
Swansea Win
QPR Draw
Bolton Win
West Brom Draw
Bristol City Loss
Sheffield Utd Draw
Millwall Win
Birmingham Draw
Preston Win
Sheffield Wed Win
Wigan Win
Brentford Draw
Aston Villa Loss
Ipswich Win