Season ticket prices frozen for the ninth year in a row
13 Feb 2020 08:35 am, by Ellandback1
Good Morning. It's Thursday 13th February, and here are the latest headlines from Elland Road...
Season ticket prices frozen for the ninth year in a row
Leeds United have announced that Season Ticket prices for the 2020/21 campaign will remain the same, whether Leeds reach the Premiership or not! The online renewal process will begin from Wednesday 12th February 2020 when current Season Ticket holders will be able to purchase their seat for next season. (Paper forms will be sent out to those who do not register online).
You can spread the cost of the season ticket over 6 months, but ONLY if you renew online! The renewal window will close on Friday 27th March 2020 with no plans to go out on general sale as it stands, meaning no new Season Tickets will be made available. Chief Executive Angus Kinnear said:
We are really pleased to announce yet another prize freeze on Season Tickets for the 2020/21 campaign to our supporters who continue to show unwavering support for the players and our club. This season we have once again generated the highest average attendances in the Football League and we take this opportunity to thank our fans for their outstanding loyalty. We currently have in excess of 23,000 Season Ticket Holders and we hope to retain as many of these as possible, your early commitment is critical and hugely appreciated.
Leeds remain second after Millwall comeback
The Lions of Bermondsey came from behind to earn a well deserved draw against Promotion rival Fulham at the Den last night. The Cottagers took the lead as early as the third minute through free scoring Aleksandar Mitrović, only for towering Iceland International winger Jón Daði Böðvarsson ti equalise five minutes later. Gary Rowetts men could have picked up all three points after they were awarded a penalty. Unfortunately Jed Wallace 100% record from 12 yards this season came to an end.
This means that Leeds stay ahead of Fulham on goal difference. Meanwhile West Brom came from behind to beat Reading at the Madejski Stadium stretching their lead by six points.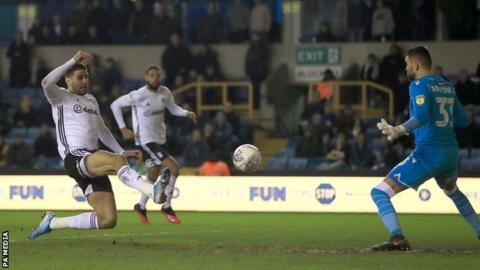 Hasselbaink claims Casilla needs 2 or 3 games on the sidelines
Soccer Leeds star, turned football pundit Jimmy Floyd Hasselbaink has claimed that French U20 International keeper Illan Meslier will be questioning what he has to do to be given a chance between the sticks?
If I am the second goalkeeper, you would be thinking 'what do I need to do to get into the team?', 'Do you not trust me?'

It would be very hard for the second goalkeeper if, after all these errors, he won't get a chance to make the team better and to settle the team down. That is the most important thing. To settle the back five down.

Sometimes you have to think about him [Casilla]. Sometimes you have to release him from the pressure. Forget about, at this moment in time, your back four. What must go through his mind? He might be a strong character. But he might also need two or three games just to sit on the sidelines and to calm himself down."