Hernandez told to bury hatchet with Bielsa
10 Nov 2020 09:16 am, by Ellandback1
Good Morning. It's Tuesday 10th November, and here are the latest headlines from Elland Road...
Leeds hierarchy ask Premier League to clarify offside rule
Andrea Radrizzani and Angus Kinnear have asked the Premier League and the referees' body PGMOL to clarify the offside rule following Patrick Bamford's disallowed goal against Crystal Palace on Saturday. Leading to what should have been the equaliser, Bamford pointed (to Klich) where he wanted the ball. According to VAR, his outstretched arm was offside. However, your arm / hand is the only part of the body that you cannot score from.
ESPN journalist Dale Johnson has stepped up to try and explain the issue. Apparently, new rules allowing the ball to hit your upper arm mean that it is also easier to be offside. Surely, his upper arm (and lets be honest, we are talking about the shoulder and the very top of your arm) would have still made him onside! Was Bielsa wrong not to criticise the decision? We may see his stance as professional, but authorities may see it as weak, vulnerable and an easy target.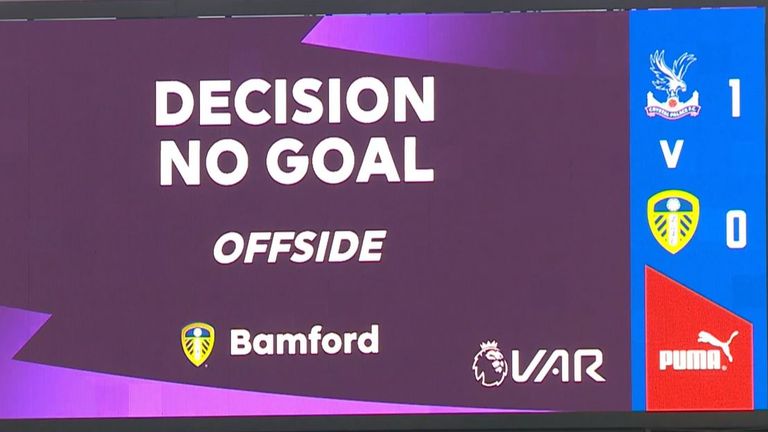 Hernandez told to bury hatchet with Bielsa
According to the Daily Express, Pablo Hernandez has been told to mend the rift between himself and Marcelo Bielsa as it is not a healthy environment for the club. Hernandez was outraged following being substituted during the Leicester City game The Spaniard threw his armband to the ground, before kicking water bottles on the side. Subsequently, the veteran midfielder was left out of the squad that were mauled by Crystal Palace last weekend. Bielsa has tried to make out that Hernandez was left out for tactical reasons!
Surely, there would no inconceivable reason why at least our talisman wouldn't be used at least as a second half substitute? After the hammering at Selhurst Park, Bielsa was asked why Hernandez wasn't playing. He replied...
Pablo is fit, he wasn't in the squad for today's game.

I evaluate all the players for the upcoming game and didn't pick him for this game. If you feel the decision was strange, I choose the 18 players I feel are apt for the game.
Leeds United's football ground will be central to regeneration in the city in the coming years
Leeds City Council's chief officer of economic development Eve Roodhouse claims Leeds United's football ground will be central to regeneration in the city in the coming years!
The club hopes to turn the former site of Matthew Murray High School in South Leeds into its training centre, replacing their present training ground Thorp Arch. Not only is Thorp Arch a 30 - 40 minute drive away from Elland Road as apposed to a five minute commute to the South Leeds site, but Leeds don't own Thorp Arch, and pay huge sums of rent to Anthony Calvert, a Tory Councillor for Wakefield and owner of Anthony Calvert Ltd
There are also plans for an £8m Park Life community sports hub, next to the Elland Road facilitating community football.
Roodhouse was quoted as saying "The ground will find itself at the heart of lots of transformations in the city over the coming years. But we are totally going to offer our support to the club on links that we already have in place which we want to drive forwards further, not least those relationships with China."
The club will soon be putting new floodlights up at the stadium, said the club's head of commercial Stuart Dodsley. But he couldn't offer a timeline for a reputed new stand at the 37,000 capacity ground. The club has 20,000 people on a waiting list for season tickets.
Dodsley said: "It certainly takes longer than six months to build a stand. Look how long it has taken Fulham without having people in the ground right now. But thankfully we have a senior management team which has been involved in similar projects before. Angus Kinnear (chief executive) worked at Arsenal and at West Ham for the change from the Olympic Stadium.
"To have 20,000 people on a waiting list is incredible and we have to try to get these people into the grounds as quickly as we can to capitalise on the momentum we have."