Leeds United in race to replace Elland Road pitch ahead of Everton game
21 Jan 2021 08:41 pm, by YorkshireSquare
The state of the Elland Road pitch has been a talking point for most of this season, even Jack Grealish chipped in with a cheeky "Everyone just slips on this pitch" comment on Instagram during our game with Brighton last weekend. Starved of any serious investment for at least seven years, with the last full restructure twenty-five years ago, the state of the pitch has been compounded by the short summer break and the recent poor weather. It has become such a talking point that Leeds United CEO Angus Kinnear mentioned in his latest programme notes…
"This process will start in the summer with the key technical element, a full reconstruction of the Elland Road playing surface," wrote Kinnear on Saturday. We had intended to do this last summer but the process takes 14 weeks and so simply couldn't be executed in a close season so dramatically shortened by the pandemic."

"The current Elland Road surface received justifiable criticism last year as the ancient drainage system was unable to deal with the torrential rain we experienced across December. The criticism should not be levelled at our head groundsman Kiel or his excellent staff. They are managing a pitch which is 25 years old and suffering from decades of under-investment."

"The fact that the pitch is even playable is a testament to Kiel's skills and should win him a Groundsman of the Year award. Everyone at the club knows that with the right investment Kiel and his team will make the Elland Road surface the best in the country."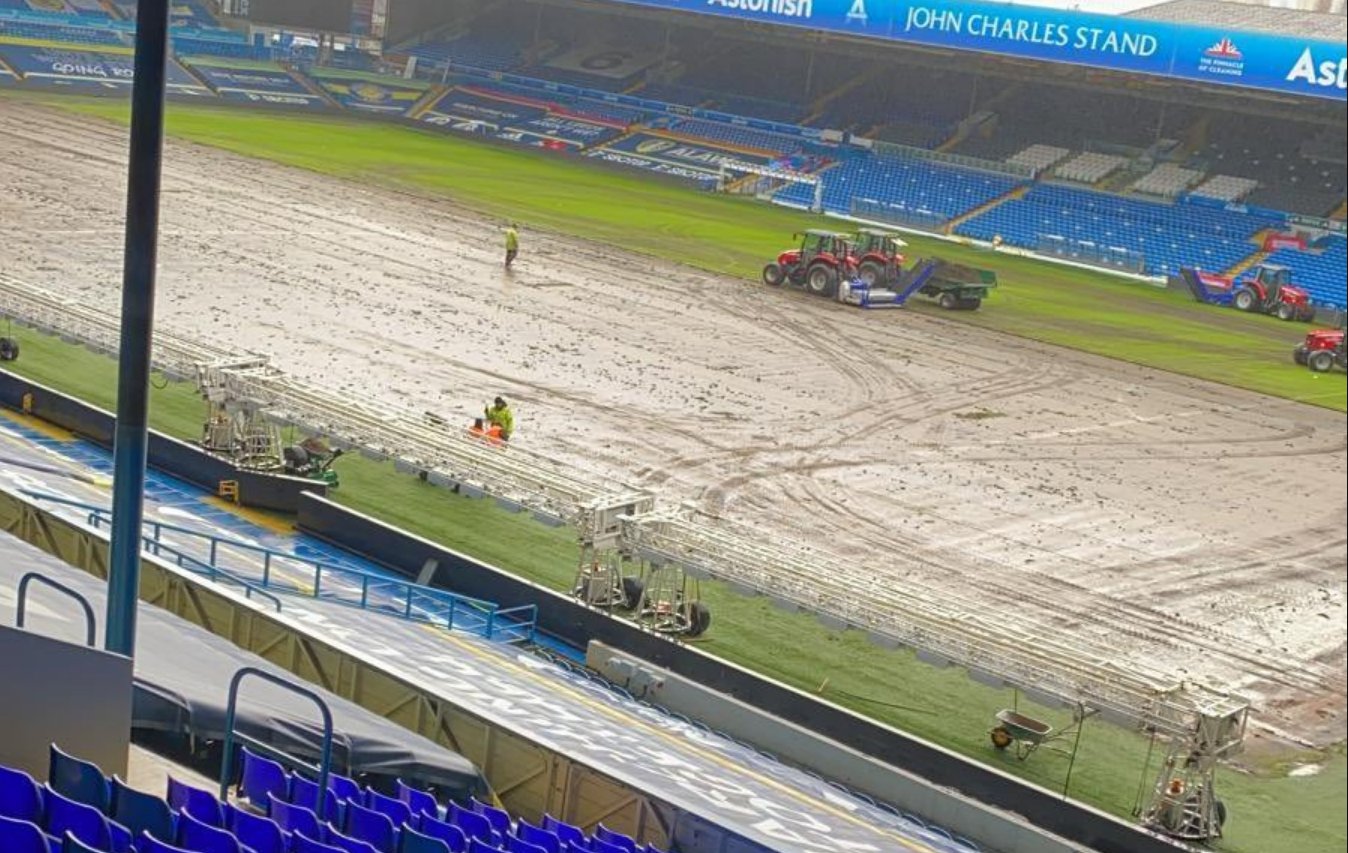 But it would seem that the way the pitch played during the Brighton game has brought things to ahead. It's clear that the poor state of the pitch impedes the style of football Marcelo Bielsa likes his team to play and it appears the club are taking steps to address the issues, at least in the short term. Photos
posted on social media
show tractors taking up the playing surface ahead of a new hybrid turf system called 'HTPro' being laid. With the game against Southampton postponed the club now have just under two weeks, until the 2nd February to get the new surface ready for the Everton game.
Leeds' replacement pitch will see them through to the end of the season, when a full installation of a new pitch is planned. Surface has been acquired from Spurs, who were growing it for use at their own stadium further down the line. Costing £300k.
The club have also been ordered to install AstroTurf on the West Stand steps amid fears they present a slip hazard and could cause injury to opposition players. Because of the Covid protocols, visiting sides are getting changed in the banqueting suite behind and are showering in temporary cabins on the car park. Their route to the pitch takes them down a number of steps through the stand. A lack of any protective surface meant that players in boots were walking on concrete, which officials believe created a safety concern and could have led to injury.