Raphinha - Flicks, tricks and so much more
17 Feb 2021 06:48 pm, by SLadley17
It is a widely held belief that new signings need time to get up to speed in a Marcelo Bielsa team. It takes weeks, sometimes months, before they are able to play at the intensity the Argentine requires and for them to know the tactical plan he demands they carry out to the letter. January signings are now seen as almost pointless, and there's an acknowledgement that summer signings should be in the door for the start of pre-season to give them a chance to get up to speed. Bielsa himself has spoken in the past of how difficult it is for new players to immediately make their mark in his sides and establish themselves in the starting XI. For a player to do this so emphatically, having joined at the end of the summer window, as Raphinha has done this season goes some way to explaining why he is already being spoken about as a potential target for Liverpool and Manchester United
£17 million being spent on a winger on transfer deadline day left most fans scrambling around on social media for footage and first-hand accounts of what we might be getting. Everyone and everything were saying the same thing; fast and direct. An identical league record in 2018-19 and 2019-20, albeit in different countries, of 28 games and 6 goals for Sporting Lisbon and Stade Rennais suggested a player with potential and an eye for goal but far from the finished product.
The start of Raphinha's Leeds career was as you'd expect for a new Bielsa signing, 3 consecutive substitute appearances. The final one, a half time introduction away at Crystal Palace, felt like a step up and a sign he was, in Bielsa's eyes, ready for the step up. Minutes are earned under the current Leeds manager and a sizeable price tag or reputation will not influence his selection process. The 15 league games since the half time Palace introduction have seen the Brazilian start in every single one. In those 15 starts there have been 4 goals, 5 assists and an absolute embarrassment of Gary Cahill which all point to there being even more to come from the 24-year-old winger and starts to explain why there is already speculation of others looking admiringly over to West Yorkshire at their latest recruit.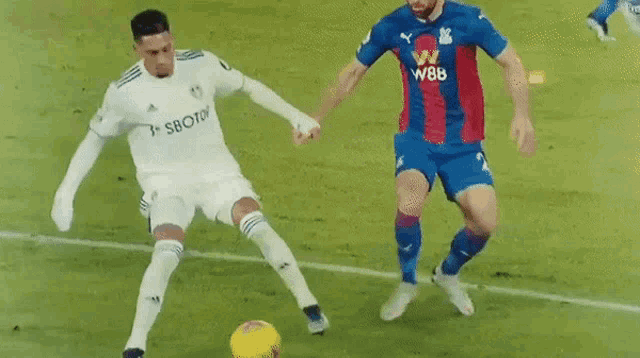 All 4 goals for Raphinha so far this season have come from his left foot and have all been brilliant finishes. The long-range strikes at Goodison Park and the Hawthorns may have been more eye catching but the composure and class shown in the finishes against Newcastle and the return fixture against Everton was equally as impressive. 3 of those goals coming in the last 9 games also indicate a player becoming more and more accustomed to the Premier League and growing in belief as the season goes on.
One thing that stands out hugely with Raphinha is his work rate and the intensity at which he operates. Jamie Carragher noted the off the ball movement and running by all of Leeds United's front 3 during his commentary in their recent 3-1 win over Leicester and the stats back up what many have commented on already this season. The Athletic recently released an in-depth article looking at some of the running stats in the Premier League this season. Raphinha was highlighted as being comfortably the only forward in the league to average over 85 'high intensity sprints' per 90 minutes and the average speed of these high intensity sprints was the third fastest of all forwards in the league. The top 2 in this category? Jack Harrison and Patrick Bamford, but it was the sheer number of Raphinha's sprints that stood out and to do this at such a speed was even more remarkable. There was a second graph further on in the piece looking at forwards' acceleration and deceleration per game, and Raphinha was again well out in front showing the intensity of his running speed changing very sharply over 140 times per match.
A big element of this physical output is driven from the manager's demands and coaching methods, but it is certainly testament to the Leeds players that they are able to carry out these physical levels on a consistent basis. For Raphinha to come into the Premier League and quickly establish himself as one of the most intense, hard-working and fastest wide players in the league will certainly have impressed his team mates and the hierarchy at Leeds United. It is also data that all clubs will be looking at, both when scouting opposition for future matches and for potential future signings. Luckily for Leeds, being aware of it and stopping it are two different things altogether.
If there is one side to Raphinha's game that may stand him apart from other wide players it is the incision and precision of his passes. He has the attributes that you'd expect to see in a modern-day winger; the pace to make runs in behind the opposing full back and also the ability to receive the ball to feet, looking to cut in off right the onto his favoured left foot for a shot on goal. But he also has another side less frequently seen from a 2021 wide player; a tendency to drift in to central areas and receive the ball to feet in front of the oppositions back 4. It is the passing ability and creativity he has shown in these areas which has impressed and raised eyebrows. His assist against Leicester at the King Power Stadium highlighted this at its best, a brilliant first time pass after the ball broke to him in the middle of the pitch through to Patrick Bamford to expertly fire Leeds ahead. There was also a pass in behind Arsenal's Hector Bellerin to Tyler Roberts on Sunday which led to Leeds second goal in their 4-2 defeat. Both passes required vision and excellent execution, both weighted perfectly for his team mate to deal with and run on too which led to goalscoring opportunities.
With another 15 league games to go this season there is plenty more time and opportunity for Leeds' number 18 to continue to impress and improve. Whilst the fast and direct narrative that we were originally given about Raphinha has proven to be correct, there seems to be much more to the Brazilian's game. There is a real desire from him to get on the ball and make a difference in every game he plays, regardless of the score line. Whilst the long-range strikes and 'Mcgeady' spin may catch the headlines, it might just be Raphinha's creative passing and intense running that differentiate him from other players in his position. These are strings to his bow that few others possess and ones that might just single him out for bigger and better things in the coming years.