Llorente earns Whites a share of the spoils
20 Apr 2021 08:04 am, by Ellandback1
Good Morning. It's Tuesday 20th April, and here are the latest headlines from Elland Road...
Leeds make their position clear regarding Super League
Leeds and Liverpool fans flocked to Elland Road last night in their hundreds, united in their cause to protest against the Super League. 12 clubs have signed up to the new ESL competition - six of them from the Premier League. Liverpool, Arsenal, Chelsea, Manchester City, Manchester United and Tottenham. They join AC Milan, Atletico Madrid, Barcelona, Inter Milan, Juventus and Real Madrid.
The so called elite clubs want a new mid-week European competition, but also want to continue in their domestic leagues. The 14 top flight clubs not signed are meeting today to discuss the matter. To give Liverpool their dues, Manager Jurgen Klopp, and James Milner defied company lines by speaking out against the Super League.
The Whites earned themselves brownie points ahead of this mornings meeting. Leeds players came out for their warm-up wearing shirts emblazoned with the slogan "Earn It" under the Champions League logo and a plane flew overhead trailing a banner saying "say no to superleague". Jurgen Klopp later described the Leeds shirts as 'a joke'! Leeds had made identical shirts for the Liverpool players, which were left in the dressing room for them, but they refused to wear them!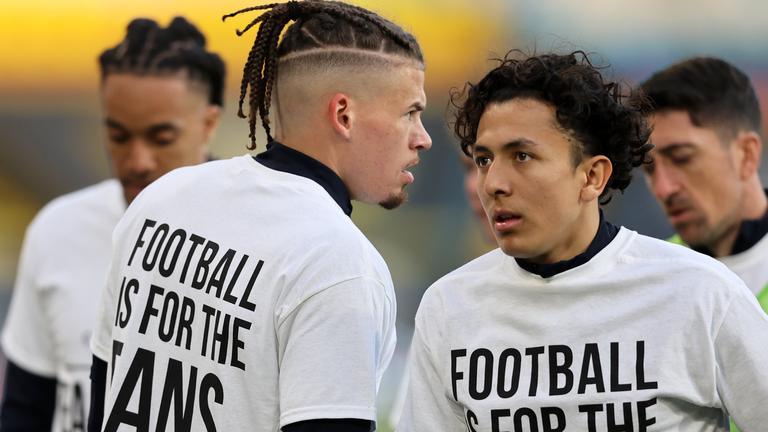 Llorente earns Whites a share of the spoils
Diego Llorente late equaliser three minutes from time sent millions of neutral football fans into jubilation last night. Why was this? Could it be true. We ALL love Leeds? Unfortunately not! Leeds opponents Liverpool were one of 12 elite clubs to have signed up for the controversial Super League, which if it happens, could change football forever!
Llorente's first goal in English football came from a corner. Harrison's in swinging corner towards a cluster of Leeds players fell nicely for the Spaniard. His downward header gave Alisson no chance. Liverpool deservedly took the lead on the half hour mark. Wave after wave of attacks, were eventually rewarded when Sadio Mane fired the ball into an empty net. Trent Alexander-Arnold latched on to a long ball before squaring it to the Senegalese International. Bamford could have taken the lead minutes before in a rare Leeds attack but was thwarted by Alisson when one on one.
If the reds had the lions share of the first half, the Whites certainly made amends after the break. Harrison had a great effort kept out by Alisson's legs after great work by Roberts. Minutes later Ayling's 50 yard pinpoint pass found Bamford on the edge of the penalty area. His exquisite first touch allowed Leeds no 9 to thump a rasping half volley, only to be denied by the woodwork. Roberts too was denied, this time by the Brazilian shot stopper.
All in all, a draw seems to be a fair result. This was only Leeds fourth draw of the season, less (or joint) than any other team in the football league!