Leeds outclass Spurs
10 May 2021 08:02 am, by Ellandback1
Good Morning. It's Monday 10th May, and here are the latest headlines from Elland Road...
Leeds outclass Spurs
Leeds turned on the style against an in form Spurs team, and gave them a master class on team work. Many (including myself) were left bemused an hour before kick off when the team sheet was disclosed, noting that Phillips, Rodrigo and Raphinha would all start on the bench. Our concerns would soon to laid to rest when Dallas (waiting on the back post) smashed the ball into the roof of the net, with less than 15 minutes on the clock.
Harrison's inviting cross from the left hand side byline into a crowded penalty area found Reguilon. With Bamford snapping at his heels, the Former Real Madrid defender stuck out his leg out to try and block the ball, but instead sent it goalward. Lloris could only parry the the ball into Dallas' path!
This was no more than Leeds deserved. Minutes before, Bamford was denied by a sprawling Lloris after good work by Harrison. Ten minutes later Spurs were level, albeit against the run of play. Delli Ali's inch perfect pass to Son carved the Leeds defence open. The South Korean fired the ball past the helpless Meslier bagging himself his 17th goal of the season.
The Whites deservedly regain the lead just before half time. Harrison fed Alioski down the left. The North Macedonian rolled the ball back to Bamford who made no mistake for six yards.
The Whites continued to dominate during the second half, and although Spurs had their moments, Leeds deservedly extended their lead with five minutes left. Raphinha broke the offside trap, and with acres of space broke into the Spurs penalty area. Unselfishly, he passed the pall back to Rodrigo who slotted the ball into the left hand corner.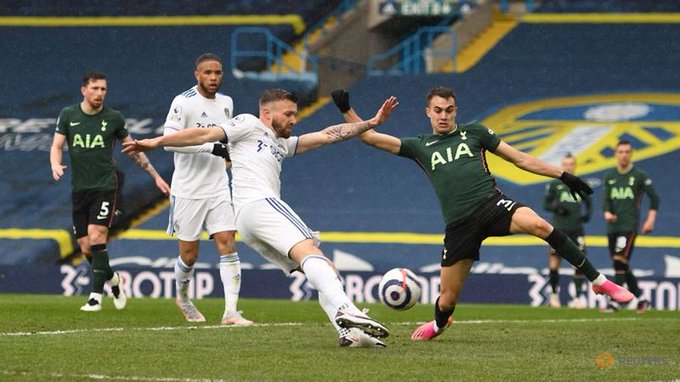 Social media bullying
Should more be done to protect people from cyber bullying on social media? Not a week goes by when dozens of celebrities aren't publicly mocked for their weight, appearance, comments or ethnicity. If you are a celebrity, should you just take it on the chin, or should the Mark Zuckerberg's of this World do more to protect them. Surely, its more import to protect the children that are being bullied. We know how cruel some kids can be!
Last year Carole Flack took her own life after being attacked by cyber bullies, and earlier this year Karen Carney almost went the same way. Her foolish, and unprepared comments about Leeds following their 5-0 route of West Brom, caused thousands of fans to retaliate on social media, leading to Carney breaking down. She told BT Sport...
I came off air and got in the car and remember saying to the guy who drives us home 'it's kicking off' and I felt physically sick. I was sat the whole night, until three or four in the morning, in this daze. It was horrible. I got a lot of stick for coming off of it (Twitter). Then you've got people around you saying stand up to it, banter back and have a bit of fun with it. The bottom line was to look after my mental health first. That was my priority.

It was relentless. I can't even describe it. People that know me know this is the job we do and choose to do it, but I'm low key, a simple girl who loves football. I don't want to be bombarded on social media platforms. It wasn't for one hour, it was for three or four days and now it still comes up, people still send me abuse. Recently I've been on a lot of government calls with the social media platforms – but they don't understand. The people in charge of social media say 'we're doing this, doing that' but they don't understand, I'm just a number.

The only way I could make them understand was to say 'do you want another Caroline Flack on your hands?' Because that night that's how I felt, and in that moment I could understand why she did what she did, because I could have gone to that place. It's definitely changed me, the impact it's had on me. I've seen it with other pundits, I'm not just speaking about myself.

About four years ago I got online abuse when I was playing, death and rape threats, leukaemia and things like that. When it happened at Christmas it was another trigger and I don't think my mental health has been the same since. My behaviour has changed. I've been highly stressed and it wasn't clear until (Chelsea manager) Emma Hayes rang and said 'you've changed'.
If you are a Sports journalist, do you deserve to be targeted? Should someone this unstable be put in the firing line? Look at the Sports journalists on TalkSport. They get thousands of derogatory responses on social media every day! Why don't they complain? Should the fact that she is a female Sports journo mean that we should treat her differently?