Good Morning. It's Tuesday 10th September, and here are the Leeds Utd headlines
Monk in the mire!
Former Leeds boss Garry Monk has been defending his corner relating to extensive and improper use of his own agent in many of the club's transfer dealings.
These are concerns echoed by Leeds, Birmingham and Middlesbrough regarding agent James Featherstone.
The new Wendies Manager was quoted as saying:-
"I will speak about that but not today," he said. "Today's about Sheffield Wednesday. I don't want to deal with nonsense.

"You know the truth and when it's inside you, you know what you want to do.

"I've always understood that and not been deterred by stuff I can't control and nonsense that might be put out there."
Monk and Featherstone have denied any wrongdoing, yet Cellino says he banned the latter from Elland Road.
Massimo Cellino revealed that he was so disturbed by Featherstone's interference that he banned him from Elland Road
"I never let Monk get involved with transfers because every player he wanted to sign he wanted to do through Featherstone.

"Monk came to me with a player from Brentford he wanted to sign.

"I asked him who the agent was. He said, "It doesn't matter, I will make the transfer".

"Then I found out the agent was Featherstone and they did the deal directly with him.

"Featherstone said he was his player, but I found out he wasn't.

"Featherstone asked me for commission fees for doing Monk's contract, and I didn't give him anything. We had a big fight because I refused to pay his fees. I said to him, "You work for Garry Monk? Ask him to pay the fees".

"He was always trying to get Featherstone involved in deals. Remember Mo Barrow from Swansea? I didn't want to sign him because the number 17 brings me bad luck, but Garry wanted to bring him in. We had a fight about Barrow, but Featherstone did the transfer.

"After three months he brought another assistant coach, James Beattie.

"Then I found out that he was a client of Featherstone's agency. After that I cut him out.

"I didn't allow him to come to the games, I didn't allow him to come to training.

"I didn't want him at the club any more."
Kalvin Phillips get out clause
No sooner has the ink dried on Kalvin Phillips new contract at Elland Road, than its revealed that he has a get out clause!
Phillips' camp insisted upon the release clause during negotiations for the five-year deal in case Leeds do not get promoted this season.
The figure is believed to be between 20m-25m. Leeds have confirmed that they have rejected similar offers over the Summer, surely when you see Brighton splashing out 40m on Maupay and Webster, you have to ask yourself, how much is Kalvin Phillips worth?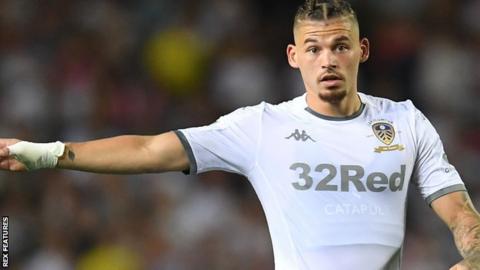 In other News
Jack Clarke scored the winner for England U20's v Switzerland.
I wonder whether Bielsa saw it?
Dallas put in a solid performance for Northern Ireland. Unfortunately Germany were too strong.
Dallas's stats
2 Clearances
2/2 Tackles Won
1 Interception
5 Ground duels won
68 Touches
Liam Cooper's second cap for Scotland didn't go so well. Belgium ran our 4-0 winners at Hampden Park.
Alioski, Nketiah and Klich also had run outs for their respective Countries.
Finally Leeds academy Keeper Illan Meslier was in fine form for the U23's yesterday as he kept a clean sheet against Crystal Palace. Final score 0-0