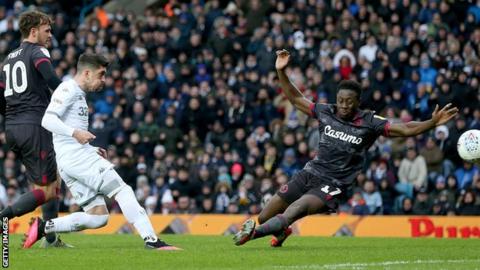 Good Morning. It's Monday 24th February, and here are the latest headlines from Elland Road...
Leeds stretch lead to five points over play off rivals
Leeds stretched their lead over their play off hopefuls to five points thanks to a moment of magic from their veteran talisman Pablo Hernandez on the hour mark. Bizarrely, apart from the automatic two, only Preston and Swansea were the only teams in the top 17 in the Championship to record victories. As expected Leeds dominated the majority of the game, with the visitors getting 10 men behind the ball to try and frustrate the Whites, then attacking on the break. The Royals almost stole a point in injury time when Liam More's turn and shoot bought out a fine save from Casilla.
Phillips injury not as bad as expected
The first half was marred by Kelvin Phillips hobbling off the pitch 10 minutes before half time. The inspirational defensive midfielder came off worse following a heavy challenge from Reading's Omar Richards. After the game, Arsenal legend Ian Wright took to Instagram to show concern for the future England star...
Hope it's not too serious KP
All good Wrighty just a dead calf thanks mate
This was certainly a lot clearer than Bielsa's statement concerning the health of the 24 year old. When asked about the health of his inspirational midfielder, the Argentine answered...
I think it's a kick. I don't know if it's serious or not.
With respect, a Millwall fan could have told us that!
Bielsa's post match pres conference
What is going through Augustin's mind?
I think most fans would agree that having taken the lead against Reading, it was going to be extremely unlikely that the Royals we were going to get anything from the game. You might even say it would be the perfect time to bring on Augustin! The £15-20m rated forward signed for Leeds almost a month ago, and has been limited to a couple of cameo roles due to an apparent lack of fitness.
With Bamford less likely to score than David Batty in a penalty shoot out you'd think that having gone one - nil up, it would have been the perfect opportunity to give Augustin some game time to a) offer something different up front and b) assist with the fitness of Augustin. If you were in the Frenchmans shoes, how would you be feeling that you were not getting any game time due to Bamfords current form?