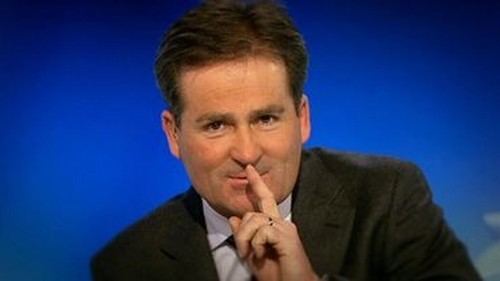 There appears to be some odd expectations from the media of Leeds United this season. Perhaps it's because we came out fighting and contested with the likes of Liverpool and Manchester City early on. Perhaps it's because on our day we are capable of playing beautiful, flowing football and stick five goals past West Brom and Newcastle. But there seems to be this expectation that we could finish in the European places, if only we could defend. As much as Bielsa is lauded but some he is criticised by some for his naivety and stubbornness.
The latest is ex Breakfast TV presenter and 'prehistoric banter' merchant Richard Keys. In his
recent blog post
, Keys questions whether Bielsa will still be at Elland Road next season, not because the Argentine may walk away, but because they will never finish higher than 10-14th with El Loco in charge!
"What's going on there? How can they be so good one week - and a limp, embarrassing version of themselves the next? I'm beginning to wonder if a change isn't needed. Bielsa holds a god-like status with Leeds fans. He can do no wrong in their eyes - but what does the owner make of it all? At the end of the day - his opinion is the only one that matters."

"At their best Leeds are a delight to watch. It must be fun and frustrating in equal measure to play in that side. It can't be easy knowing that you're going to have to score at least twice to win a game because you can't keep a clean sheet. Here- there are arguments for caution on occasions."






"I'm reading the usual suggestions of 'tiredness', which always come at this time of their season. Are Leeds running on empty? Of course Karen Carney's suggestion that 'they wouldn't have got up had it not been for Covid' was clumsy - but I know the point she was making - and so did everybody else. They would've got up. They were the best team in the Championship by miles last season. What she really meant was that the Covid break allowed them to re-charge and she was right. There might not be the same chance this season."

"I don't believe Leeds will ever be better then 10th-14th playing the way they do. That won't be enough for an ambitious owner like Andrea Radrizzani. It shouldn't be enough for Leeds fans either. So what happens in order for Leeds to take the next step? I wonder if Bielsa will be in charge at Elland Road next season?"
With Marceo Bielsa's side currently sat 12th in the table on 23 points and Premier League
survival predicted
, it seems odd that so much flack is being directed at the Argentinian coach. Our fellow promoted teams, Fulham and West Brom, are sat 18th and 19th in the table but there doesn't seem to be so much criticism levelled at Scott Parker. Sheffield United are on target for the lowest Premier League points total in history yet still Chris Wilder seems to have less criticism and scorn directed at him than Marcelo Bielsa.
Personally, I think Bielsa has done a great job. He has taken a mid-table Championship team and got them promoted as Champions within two seasons. He is now developing that team further into a mid-table Premier League side. No mean feat given the step up in quality and the shortened pre-season. For the large part the team currently outperforming Premier League regulars Newcastle, Crystal Palace, Wolves and Burnley is still largely composed on 'Championship players'. There was some strengthening this summer with key additions to the squad and with another summer under his belt I truly believe Marcelo Bielsa can take Leeds United into Europe.
As for Keys, he is a dinosaur who thought Pep Guardiola should bring in Sam Allardyce to help him. His views are irrelevant and Andrea Radrizzani should not take one bit of notice of him!