Good Morning. It's Thursday 18th July, and here are the Leeds Utd headlines
Manchester Utd lesson may be a blessing in disguise
Whilst may, including myself may have pressed the social media panic button after yesterdays mauling against the Reds; having had time to reflect, there are many positives to take from it. Leeds built up some great attacks and only last ditch defending by(and I loathe to say it) one of the best teams in the World thwarted the Whites from making the game a lot closer than the scoreline .....
The Leeds squad only arrived in Australia over the weekend, whilst Bielsa landed in Perth less than 24 hours before the game. In contrast, the Reds have had over a week to acclimatise to the conditions and have already beaten Perth Glory 2-0.
The performance will certainly give Bielsa and his staff an opportunity to highlight any weak links which need to be rectified before the season starts. For me, our defence looked fragile. If we are going to stand a chance of going up automatically we need to look at our centre backs.
Casilla's performance
Much has been said about the former Real Madrid keeper becoming Leeds top earner. It is believed the shot stopper is taking home between £35,000 - £40,000 a week.
How was his performance against Manchester Utd? Can he be faulted for any of those goals? Would a better keeper have saved any of those?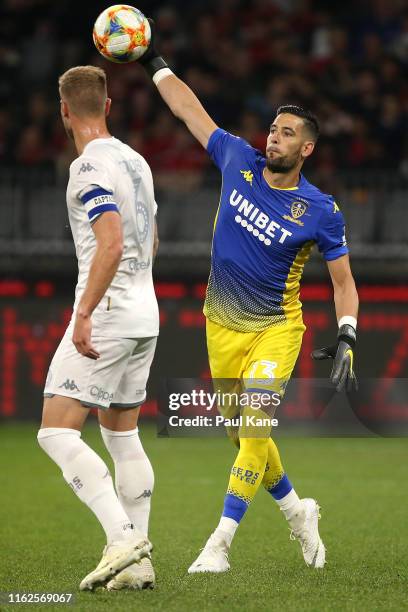 Is Cooper a scapegoat
Does our Captain receive unjust criticism from the Leeds Utd faithful? I have to say sometimes, like yesterday he brings it on himself when he went sliding in on Chong getting nowhere near the ball! Unfortunately I haven't been able to etch out of my mind the last game of the season when he collided with Casilla in no mans land leaving Derby an empty net at their disposal. Out of respect for our Captain, I'm not even going to mention the needles penalty he gave away in that same game!
I have to be honest, last term was Coopers best performance in a Leeds shirt, and when you consider the many faultless displays, does he deserve some slack from the Leeds fans?
Leeds five star display against Tadcaster
A mixture of development players, and first team players which were left behind from the trip to Oz made easy work of Tadcaster Albion. Gotts, Clarke and a Edmondson hat trick saw the Whites show their superiority against their non league opponents.
A short back pass from Davis gave Albion a consolation goal.